Une fille trouve les lieux de tournage de films cultes et leur donne une seconde vie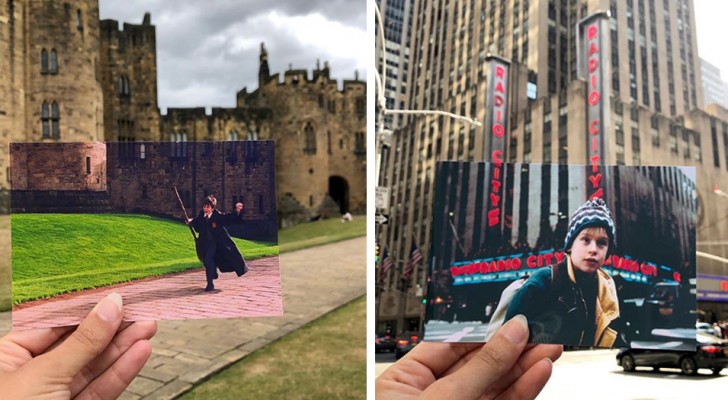 Advertisement
Les grands chefs-d'œuvre du cinéma hollywoodien ont la capacité d'engager pleinement les spectateurs qui, de cette façon, ne remarquent presque jamais combien de scènes cultes ont été tournées dans des lieux et villes réels.
Pour nous rappeler ce lien entre le monde du cinéma et la réalité, Andrea David, une jeune fille qui parcourt le monde à la recherche des lieux de tournage célèbres des films pour leur donner une seconde vie via la photo. Ces 22 images ne sont que quelques exemples de la façon dont la jeune fille parvient à relier le monde de la fiction au monde de la réalité !
Advertisement
1. La Plage - Maya Bay in Thaïlande
Advertisement
2. Les Dents de la mer - Amity Island è in realtà Martha's Vineyard dans le Massachusetts (USA)
3. N'oublie jamais - Caroline du Sud (USA)
4. Meilleures Ennemies - Tourné dans le Plaza Hotel de Boston
5. The Big Bang Theory - Une scène tournée à Vasquez Rocks, Californie
Advertisement
6. The Revenant - Tourné dans la réserve indienne Nakoda en Alberta (Canada)
7. Game of Thrones - Playa de Itzurun en Espagne
Advertisement
8. Shutter Island - Medfield State Hospital près de Boston, Massachusetts (USA)
9. Quand Harry rencontre Sally - Tourné dans un restaurant de New York
Advertisement
10. Harry Potter - Le château d'Alnwick en Angleterre a été utilisé pour construire le château de Poudlard.
11. 007 Spectre - Ristorante Ice Q en Autriche
Advertisement
12. Fast and Furious - La maison de Dominic Toretto sur la East Kensington Road à Angelino Heights, Los Angeles
13. Shining - Un couloir de l'hôtel Stanley au Colorado (USA)
Advertisement
14. The Beatles - La pochette de l'album "Abbey Road" prise devant les studios d'Abbey Road à St. Johns's Wood, Londres
15. Maman, j'ai encore raté l'avion - Devant l'hôtel Plaza à New York.
Advertisement
16. Very Bad Trip 2 - Scène tournée sur la terrasse de l'hôtel Lebua ) de la State Tower à Bangkok (Thaïlande)
17. Les Simpson - Times Square, New York
18. Friends - Le café Central Perk dans les studios de Warner Bros. de Burbank (USA)
19. Will Hunting - Un banc dans le Boston Public Park (USA)
20. Maman, j'ai encore raté l'avion - Une scène près du Radio City Music Hall à New York
21. Harry Potter - Château d'Alnwick en Angleterre
22. Diamants sur canapé - Devant les vitrines du magasin Tiffany & Co. à New York
Advertisement